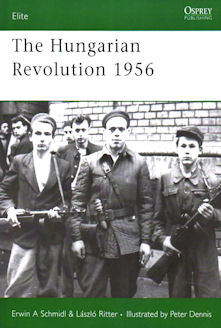 The Hungarian Revolution 1956
Elite Series No. 148
By Erwin A. Schmidl & László Ritter. Illustrated by Peter Dennis

Stalin's death in 1953 led to unrest in several states of the Soviet Empire, as their hungry, tyrannized peoples sensed a slackening in the grip of the hard-line regimes. This is an account of the October 1956 student demonstations in Budapest, which attracted growing support from workers and, when the secret police opened fire, from many Hungarian troops. For five days they successfully fought off Soviet tanks, and it even seemed that Moscow might negotiate a withdrawal; but then the tanks rolled in again, in crushing numbers. This stirring story is illustrated with fascinating contemporary photos and meticulously researched colour plates.

Osprey Publishing: Oxford, 2006. 64 pages + 8 colour plates

ISBN-10: 1 84603 079 X,
ISBN-13: 978 184603 079
"...gives a thorough and evenhanded summary of the causes and consequences of the uprising... lists ample sources for further study, while presenting a wealth of archival photographs... as well as an excellent spread of color illustrations by English artist Peter Dennis."
Jon Guttman, Military History

"The authors have done a superlative job of not only explaining the background for the revolution, but also in providing a description of the fighting and its surroundings... As with most of the Elite series, there are superb drawings, this time by Peter Dennis, showing the various clothing and equipment of the people involved."
Scott Van Aken, modelingmadness.com
List of Contents

Introduction

Historical Background

Hungary after 1945

First reforms, 1953-1956

The Events of 1956

The Beginning: 23 October

First Soviet intervention: 24-28 October

Interlude: 29 October - 4 November

Second Soviet Intervention: 5-12 November

Hungary and Suez

The refugees

Aftermath

Goulash Communism', and the end of the Iron Curtain

THE OPPOSING FORCES

The Hungarian Army: organisation-weapons-participation

The insurgents: weapons-tactics-local groups

The Soviet forces:organisation-participation-weapons-casulties-MVD troops

FURTHER READING
PLATE COMMENTARIES
INDEX