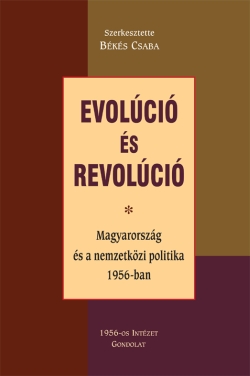 EVOLÚCIO ÉS REVOLÚCIÓ
Magyarország és a nemzetközi politika 1956-ban
[EVOLUTION AND REVOLUTION: Hungary and International Politics in 1956]

Edited by Csaba Békés
The volume is the outcome of a recent research and publication project of the Cold War History Research Center, Budapest. It contains twelve archive based studies and an introductory essay, written on the basis of peviously established and harmonized editorial conception by eleven historians on the bilateral relations of Hungary in the period 1953–1958.
It is supplemented by an extensive and authoritative chronology, based on the findings of the contributors as well as a full bibliography.
The volume represents the first joint effort of Cold War historians resulting in a monograhical work in one of the former Soviet Bloc countries.
404 pages, 1956-os Intézet–Gondolat Kiadó, 2007.
ISBN: 978-9639-610-90-3, Harcover: 3950 Ft.

| | |
| --- | --- |
| Table of Contents | Authors/Compilers |
| Foreword | |
| I. Hungary and international politics int he middle of the nineteen-fifties | Csaba Békés |
| II. Hungary and the Soviet Bloc | |
| The Soviet Union | János M. Rainer |
| Yugoslavia | Zoltán Ripp |
| Poland | János Tischler |
| China | Péter Vámos |
| Romania | Stefano Bottoni |
| Czechoslovakia | István Janek |
| III. Hungary and the West | |
| Austria | Lajos Gecsényi |
| The United States | Csaba Békés |
| Italy | Kata Somlai |
| Great Britain | Csaba Békés |
| France | Gusztáv Kecskés D. |
| The two German states | Mihály Ruff |
| Literature | |
| Chronology | András Kiss |
| Bibliography | László Gyõri |